Digital Imaging Services
Want to give your customers value added services? Wonder how you can profit from the new age of digital photography? We have the complete solution for you; our InfoMagic Digital Imaging Services.
With the increase use of digital camera, photo printers and scanners, more users are using the computer to store, edit and print their photos.
Ample opportunity awaits those who can provide services to customers based on these new digital technology.

Photo Storage to CD/VCD

click on image for price details
Some customers would want to store their images permanently and view them in their computers or their VCD players. And the only way to do that is to convert photos into digital images.
Such digital images can also be used over the internet to send pictures to friends and families. By converting photos to digital images, the possibility is endless for your customers to enjoy.
Furthermore, there are digital camera users who would want to store their images other than their computers. And one such way is to store them into Photo CD or VCD. With such service around in your business, it will be a bonus to your customers.

Digital Images to Photo Prints

click on image for price details
With the advent of the new digital cameras in the market right now, it will not be a surprise that these cameras will gain more usage with its functions increased. We at InfoMagic can help you to serve these customers who have digital images to print.
Our new range of Photo Printers is a combination of new digital technology and chemical based photo printing. The printer uses chemicals to process the prints but in place of a film image, digital image is imprinted on the photopaper, producing photographic images that are as good as, if not better than, normal photos.
With such versatility in your photo store, the added services will definitely help in the profit margin.

Photo Restoration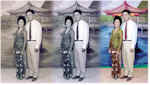 click on image for price details
Some of your customers may find some old photos of their family and friends but unfortunately it is in bad condition. We at InfoMagic can help your customers to relive those memories again by restoring the pictures to their former glory and even colorise them!
Imagine the happiness your customers feel when they see these restored images!